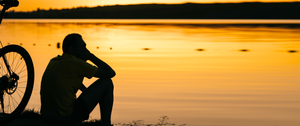 Dreamed up and designed in Dublin.
THE ORIGIN STORY...
Sona Bikes was an idea conceived by Iain while he studied Engineering at the University of West Scotland over 20 years ago.
As a kid, Iain spent his days on the local BMX tracks which developed his love for all things two-wheeled, and spent countless weekends out and about mountain biking in the Dublin Mountains.
DREAMS OF DREAMS...
Iain developed his skills working as a bike mechanic. In 2014, SONA became a reality when he started developing his own brand of bikes.
Having purchased a single speed bike for commuting he saw an opportunity to develop a bike that was built for the customer and not just bought off the shelf. The idea was to design and hand build bikes in Dublin, exactly how the customer wanted.
FRUITION
On the back of customers' interest, he set off to design the perfect bike, combining customers' requests, what he loves about bikes, and latest technology.
By early 2016, after an intensive design and prototyping phase, Sona was ready to launch. We built each order in the city centre workshop where we still work today. 
By the end of the year, we had sold out! It was clear that a larger range of bikes was required. Since then, road bikes, hybrids, 3 speeds and e-bikes have all been added to the SONA family. Having built a reputation for exceptional products and outstanding service, nothing makes us prouder than seeing a Sona bike pass by on the streets of Dublin, and further afield!
Bike To Work Scheme
Save up to 51% off the price of your new Sona.
View Packages
Browse Our Range
Road, hybrid, city or e-bikes.
View Collections
Accessories
Lights, locks, racks and more.
View Products
Bike To Work Explained
You can save between 32% and 52% by buying your bike through the scheme.